…Or are you looking for a way to collaborate with colleagues?

Over the last week, I've been using crocodoc.com with my IB examining colleagues in order to discuss samples of students work. I can certainly see many benefits for us in the High School.
Crocodoc is a very easy way to annotate and mark student's work that is in PDF, word document for or even images. You create an account and upload files which you can then share with students and colleagues. Anyone you share with can add comments, highlight areas and make annotations.
And a note about the upcoming mock exams…
Now that we are coming to the examination season, our Grade 12 IB ITGS Diploma students are required to 'hand-write' their papers which means that there is one hard copy of the student's work. That's fine as you can physically mark and comment on the paper and give feedback to the individual student. However, why not consider scanning, uploading and annotating electronically one or two high-scoring papers to Crocodoc to share with your students to provide and discuss the marking and allow all students the benefit of the feedback as well as providing good model answers? An added benefit is that you have an online record of the annotated work that you may want to share with other students or colleagues for moderation purposes in the future.
To get started and try out Crocodocs, go here.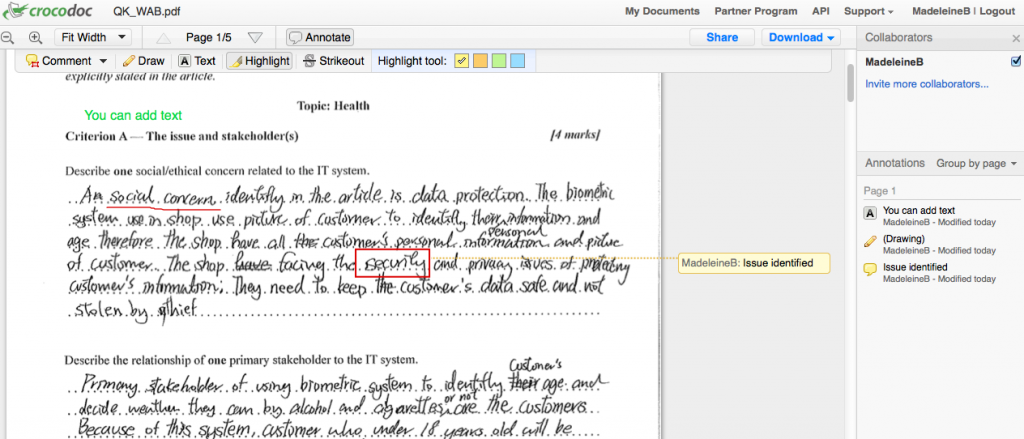 Crocodocs is FREE and currently available here in China….so get started and see how you go!
Our first real collaborative project, the Introducing……. assignment is finished and as I review work here are some pertinent comments as a way of reflection.
Students were asked to upload their finished multimedia artifact to an online space for sharing, via hyperlink or preferably via a Web 2.0 tool that allows an embed code to be used on the Ning blog post. Needless to say we had a variety of methods, including the following:
The use of Youku.com, a local Asian alternative to YouTube that is not blocked in China
Uploaded to Windows Live (however I object to this method as I do not want to have to download software to my laptop to view student work)
PhotoBucket – another video host that is not blocked in China and seems to be working quite efficiently
The WAB media server – Introducing Shawn as an example
Voki, audio with avatar speaking text
Prezi.com – PPT on steroids!
Products generally showed good technical skills but some did not reveal such good communication skills overall. It is very important to be able to use the technology and be creative, but if the message is lost or not clear then it is pointless.
The use of Web 2.0 tools was good and many students embedded their artifacts back into the Ning blog post. The WAB server is also fairly robust, and in fact does provide an embed code that the students decided not to use this time. I really prefer not to have to open another website or server space to view multimedia. It is much preferable to have the frame embedded into the blog post for easier viewing.
My Favourite Examples:
This one I really like for it's uniqueness
Right now we also have a Polling Widget on the left hand side of the Inside ITGS Ning for students to vote for their best BISS and best WAB artifacts. What would you vote for?