Inside ITGS students in Beijing, from Western Academy Beijing and Beijing (BISS) International School, successfully completed another interesting global challenge this week when they presented at the Global Education Conference.
This free event took place entirely online using the videoconferencing tool, Elluminate. Everything went relatively smoothly with 15,028 unique logins, 8,372 hours of presentations attended, and 32,681 web site visits just this week. Sessions were recorded and can be viewed on the conference web site.
View the Inside ITGS slideshow from uploaded images to the Ning.
The following is a screenshot from during the presentation showing where participants in the audience were located.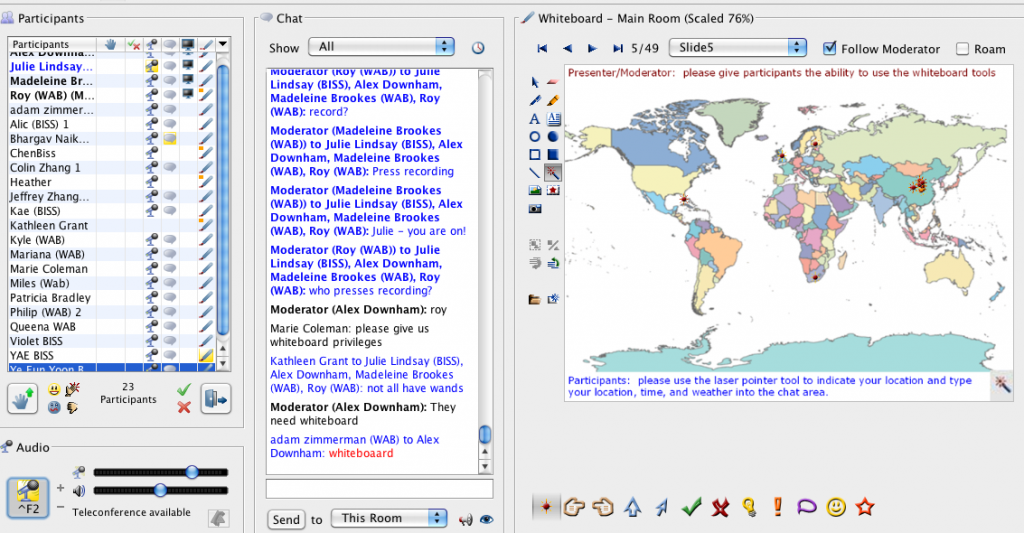 This style of real-time presentation opportunity, although a little stressful pulling it together, promotes higher-order thinking through challenging communication skills, both verbal and written. Not only was each student expected to speak about a topic or aspect, but they were expected to contribute to the discussion forum and interact with others throughout. With an appreciative audience (teachers from our schools as well as other guests) providing motivation to excel, all students, without exception, spoke succinctly sharing their ideas and reflections.
The slideshow shows the diversity of the presentation, which as well as introducing ITGS and the concept and practice of Inside ITGS, also covered the tools and how we use them, the actual collaborative assignment work attempted as well as a discussion about what the future holds for Inside ITGS.
I invite students from the presentation to contribute their ideas as comments to this blog post. How effective is a virtual presentation? What skills are needed to do this well? How can we use this medium to flatten the classroom walls further and include others, especially those not in our time zone?