This blog has been quiet the past two months. Madeleine and I have been very busy with the Flat Classroom Conference (pre, during and post) that involved some of our ITGS students. I am still formulating a blog post about that amazing event……
Meanwhile our Inside ITGS collaboration continues, with a little less emphasis on the cross-class collaboration recently. We have been working through understanding software, including spreadsheets and databases, and although not the most inspiring of topics, it is a chance for our students to develop an understanding of these applications before making some decisions about their personal project direction (more coming about that soon as well).
This past week we started exploring the possibility of integrating Second Life with Inside ITGS. Inspired by colleague David Deeds, currently leading technology and innovation at Changchun American International School, and Second Life/virtual worlds guru we are considering how we can use the power of a virtual world to support engagement and learning while at teh same time deliver the ITGS curriculum. Our first fun session within Second Life recently found us flying around visiting the island and spaces that David is already working within alongside his students. The picture below shows the three of us deep in discussion in the new building David has bought specifically for our three schools to connect and develop the ITGS learning community.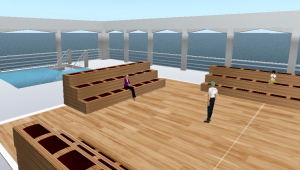 ITGS puts the 'G' into Global in Beijing! I think we both feel there is no reason not to join our classrooms together for this ITGS course. It is an exciting adventure, and we could in fact be any two classrooms, anywhere in the world. However, here we are, both in Beijing. So, not only will we flatten our learning environment by using virtual and Web 2.0 tools (blogs, wikis, podcasts) we will also be able to have real-time meetups and collaborations that join ours students together.
I am thrilled to be embarking on this ITGS collaboration with Madeleine and her class. I know I will learn a lot, and think the new ITGS syllabus will be interesting to work with. I taught ITGS last when in Bangladesh, and ran a wiki-centric classroom, in conjunction with a class blog, ITGS Forum. We are still working out what will be yours, mine and ours in terms of spaces and places. It is very important that we join our classrooms in an online learning environment that provides resources for discussion, sharing multimedia, content and research collaboration, and group project work. The students must become familiar with social media tools and adept at blogging and wiki work, as well as creating multimedia.
This blog will be for us as ITGS educators to share and reflect. We will invite guest bloggers in as well, possibly even students. Don't forget also to follow us on Twitter.