insideITGS.net is a collaborative project that aims to document our exploration and delivery of the new IB Diploma Information Technology in a Global Society (ITGS) course in our two classrooms. We begin in August 2010 with our new Grade 11 students in our two schools, the Western Academy of Beijing and Beijing (BISS) International School.
Julie and Madeleine have both been teaching and been involved with ITGS for a number of years. We first met at an ITGS workshop in Bangkok in 2004 and have since exchanged many ideas and resources and had endless discussions on the delivery of ITGS. Both of us have many direct links to ITGS: Madeleine is a team leader for the 'current' HL Internal Assessment component, the portfolios and also examines paper 2; Julie was part of the ITGS curriculum review team in January 2010; both Julie and Madeleine are page managers for the ITGSopedia.wikispaces.com.
About Julie Lindsay

Julie Lindsay, MA Music (La Trobe University in Melbourne), MA Educational Technology Leadership (George Washington University in Washington, DC), ADE (Apple Distinguished Educator, class of 2010), Member of Horizon Report Board of Advisors 2008-2010, ISTE Ambassador, co-founder of Flat Classroom Projects, Conference and Events. Currently E-Learning Coordinator at Beijing (BISS) International School, China, Julie is an enthusiastic, global-minded education leader and innovator. Originally from Melbourne, Australia over the past 13 years she has been teaching and leading the use of technology in schools in Zambia, Kuwait, Bangladesh, Qatar and now China.
Julie blogs at E-Learning Journey's (http://123elearning.blogspot.com). More information can be found on Julie's digital portfolio. (http://julielindsay.wikispaces.com)  Twitter/Skype/Delicious: julielindsay
About Madeleine Brookes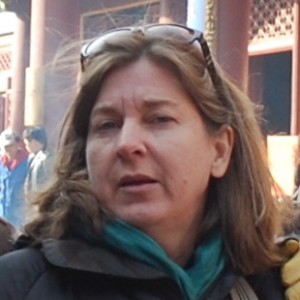 I am an educator. I am currently the High School Integrator and IB Diploma teacher for ITGS at the Western Academy of Beijing. My passion is the IB Diploma Information Technology in a Global Society, which I have been teaching since 2001 and examining since 2003. Since my move to WAB, I have completely shifted from a PC to a Mac environment. I am Apple Distinguished Educator, class of 2008, Beijing ADE coordinator, and currently serve on the ADE Asia Advisory Board.
When I am able to access, I try to keep updated through twitter.com/mbrookes. I have just started to blog at technology4thinking.com