Inside ITGS students in Beijing, from Western Academy Beijing and Beijing (BISS) International School, successfully completed another interesting global challenge this week when they presented at the Global Education Conference.
This free event took place entirely online using the videoconferencing tool, Elluminate. Everything went relatively smoothly with 15,028 unique logins, 8,372 hours of presentations attended, and 32,681 web site visits just this week. Sessions were recorded and can be viewed on the conference web site.
View the Inside ITGS slideshow from uploaded images to the Ning.
The following is a screenshot from during the presentation showing where participants in the audience were located.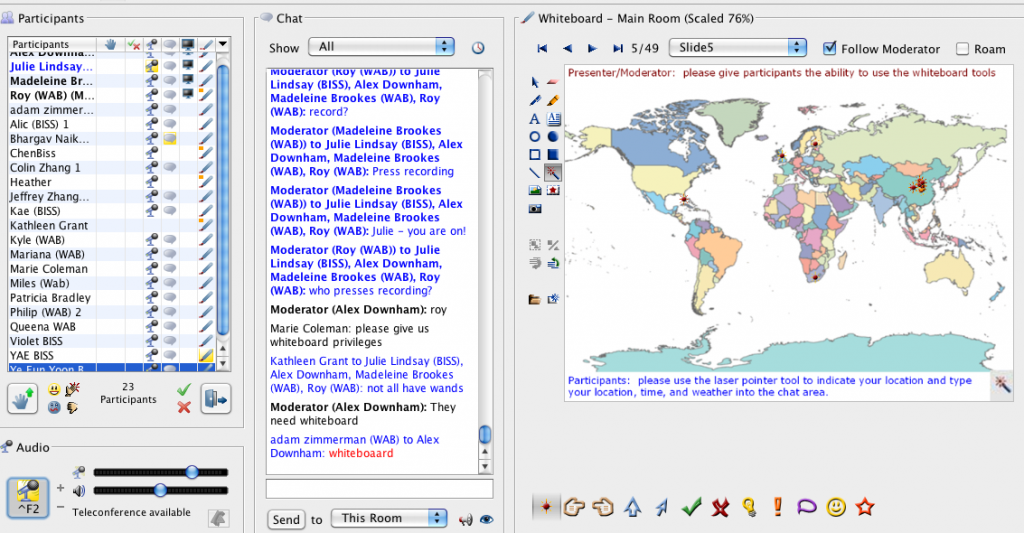 This style of real-time presentation opportunity, although a little stressful pulling it together, promotes higher-order thinking through challenging communication skills, both verbal and written. Not only was each student expected to speak about a topic or aspect, but they were expected to contribute to the discussion forum and interact with others throughout. With an appreciative audience (teachers from our schools as well as other guests) providing motivation to excel, all students, without exception, spoke succinctly sharing their ideas and reflections.
The slideshow shows the diversity of the presentation, which as well as introducing ITGS and the concept and practice of Inside ITGS, also covered the tools and how we use them, the actual collaborative assignment work attempted as well as a discussion about what the future holds for Inside ITGS.
I invite students from the presentation to contribute their ideas as comments to this blog post. How effective is a virtual presentation? What skills are needed to do this well? How can we use this medium to flatten the classroom walls further and include others, especially those not in our time zone?
Grade 11 – The Great Debate
We look forward to this week's work where the insideITGS students will be starting on the Great Debate project. We are using a fictional country "Edtopia" for our setting and students will assume the roles of various Edtopian citizens.
Here is their brief:
Edtopia is a country that has a dictator ruling the people. Edtopia Press is a publishing company that produces newsletters and magazines for clients. Edtopia is moving into the 21st Century and starting to embrace more online and multimedia forms of publication, including the use of social media to attract more readers and therefore generate more profit for their clients. However, with the development of new forms of publication including online social media, many clients and businesses are now creating their own publications and managing their own online distribution.
The essential question that will be debated is:
Has the introduction of freely available online facilities and tools for publication (including desktop publishing and Web 2.0 forms of social media) been a positive step for society?
This project will take place over the next 3-4 weeks. We have broken it down into 4 stages: technical knowledge, research, debate and synthesis/evaluation. The students from the three participating schools (BISS, WAB and Vienna International School) will be collaborating on the first three steps and then will be required to generate their own evaluation for the last step, where each student will produce their own paper to address the question.
This week we will be looking step 1 and 2. For step 1, students will look at the technical tools and IT systems associated with this topic and will be collaborating in wikispaces to build a set of notes to share. At some stage we will be assessing their individual technical knowledge with an IB-style quiz.  We will also be allocating roles to teams of 3+ students, each from one of the participating schools: so that they can research, collaborate and produce their position paper which they will then use as a basis for their presentation in Voicethread.
We will blog more on this project as it develops. In the meantime, please join us here or leave us a comment.
Grade 12 – The 2011 Case Study
I also have a Grade 12 class who will be working on the May 2011 case study. Again, collaboration will take place with the students at Andrew Churches's school in New Zealand, where again, thanks to wikispaces, the students can build and develop their technical knowledge.  If you are interested in this aspect of the case study, the wikispace is accessible to anyone but to be able to edit the space you must be a member of the space. Teachers are invited to become organisers of the space and they in turn can invite their students to become members of the spaces.
The case study is about e-commerce and at WAB we are kicking off with an investigation into a very interesting ecommerce site, ethiogift.com, which is a gift delivery service in Addis Ababa. Our students will be looking at the underlying technology and the issues associated with this specific site,  for example: one of the of the 'hot buys' is a 35kg sheep. How does the company deliver the sheep in a country where addresses are vague and the phone service is limited? Please leave a comment here if you are interesting in learning more about this activity.