ITGS puts the 'G' into Global in Beijing! I think we both feel there is no reason not to join our classrooms together for this ITGS course. It is an exciting adventure, and we could in fact be any two classrooms, anywhere in the world. However, here we are, both in Beijing. So, not only will we flatten our learning environment by using virtual and Web 2.0 tools (blogs, wikis, podcasts) we will also be able to have real-time meetups and collaborations that join ours students together.
I am thrilled to be embarking on this ITGS collaboration with Madeleine and her class. I know I will learn a lot, and think the new ITGS syllabus will be interesting to work with. I taught ITGS last when in Bangladesh, and ran a wiki-centric classroom, in conjunction with a class blog, ITGS Forum. We are still working out what will be yours, mine and ours in terms of spaces and places. It is very important that we join our classrooms in an online learning environment that provides resources for discussion, sharing multimedia, content and research collaboration, and group project work. The students must become familiar with social media tools and adept at blogging and wiki work, as well as creating multimedia.
This blog will be for us as ITGS educators to share and reflect. We will invite guest bloggers in as well, possibly even students. Don't forget also to follow us on Twitter.
insideITGS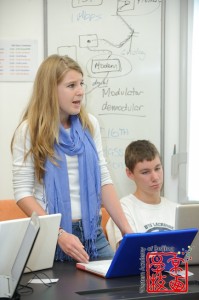 is a collaborative project that aims to document our exploration and delivery of the new IB Diploma Information Technology in a Global Society (ITGS) course. Both Julie Lindsay (BISS) and myself, Madeleine Brookes (WAB) have been involved with ITGS for a number of years and have often shared resources and ideas. Now that we are both here in Beijing and both teaching the new course from August 2010, our idea is to take our collaboration to the next level by providing a learning community where our students in both schools can collaborate, share ideas and learn together. This blog will be our record of our endeavors and a living resource that is accessible for all ITGS teachers and students from around the world; a resource that you can dip into, contribute to and most importantly, become part of our grass-roots, international learning community.
We begin in August 2010 with our new Grade 11 students in our two schools, the Western Academy of Beijing and Beijing (BISS) International School. Wherever you are in the world, please visit us regularly to see our progress and share your views, opinions and resources.
Above all, let's work together to get the GLOBAL happening in ITGS.