I am not expert in this new HL topic, 3.10 IT Systems in Organisations. I have left it to last in the hope that some teachers will have taught this and have a great set of resources. In the spirit of collaboration, I have a proposal…. we have set up a wikispace for this topic and hope that you and your ITGS students will help build an excellent resource that we can all share and improve. It's here:  https://itgs-hl-itsystemsorg.wikispaces.com/
Please join, please add to it…please help!
We are at the stage where we are looking at the potential solution for a ticketing system set up by the PTC consortium. One of the technical concepts that we are trying to get our heads around is a distributed database and what that might look like as a viable solution. To get to this point, we first looked at the following concepts:
The links are all to the collaborative wikispace that we: myself, Andrew Churches (Kristin School NZ) and Julie set up to share with ITGS students (and teachers) who will sit the exam in May or November this year.
To help understand a potential solution based on distributing the data, we are about to tackle these questions:
Generic Technical Questions
Define centralised database.
Define distributed database. What are the advantages/disadvantages.
Define DDBMS.
Examine the diagrams and look at the research and notes posted in the wikispace. Does each model (centralised, decentralised and distributed) require the same hardware, DBMS and operating system?
What are the networking requirements for users to access the data for each model? 1. centralised, 2. decentralised, 3. distributed?
What is a VPN? Which models would require a VPN and for what purposes?
Review the ACID: Atomicity, Consistency, Isolation, Durabilty.
Discuss the advantages of having a centralised db system over DDBMS (Your response should review some of the aspects of the ACID model).
Discuss the advantages of having a DDBMS over a centralised db (Your response should review some of the aspects of the ACID model).
Questions relating to the case study
Use of technical terminology and explicit links to the case study are required here.
Assume you are worked for CT at Site 1 (the first small theatre). How many locations can the same data be stored and accessed from in for each of the three configurations?
What happens if two customers want to book the same seats at the same time at (site 1) CT for each of the three configurations?
What are the advantages for (site 1) CT for staying as they are – ie their own database system? (diagram 3)
What are the advantages for (site 2) MTG for staying as they are? (See diagram 3)
Would a centralised system (site) be better for CT? (see diagram 1, the database is stored in one place at site, and not at site 1, CT)
Would a centralised system be better for MTG? (likewise, see diagram 1)
Would a distributed db system be better for (site 1) CT and (site 2) MTG? See diagram 2, the data for CT is stored on a server at CT (site 1) however users can also access data for other theatre companies in the PTC, for example site 2 and others.
Overall, in your opinion and based on the case study and the points discussed above, what system should PTC adopt?
We aim to post some responses in our wiki here. We welcome any contributions so please post here or contact us in the wiki.
…Or are you looking for a way to collaborate with colleagues?

Over the last week, I've been using crocodoc.com with my IB examining colleagues in order to discuss samples of students work. I can certainly see many benefits for us in the High School.
Crocodoc is a very easy way to annotate and mark student's work that is in PDF, word document for or even images. You create an account and upload files which you can then share with students and colleagues. Anyone you share with can add comments, highlight areas and make annotations.
And a note about the upcoming mock exams…
Now that we are coming to the examination season, our Grade 12 IB ITGS Diploma students are required to 'hand-write' their papers which means that there is one hard copy of the student's work. That's fine as you can physically mark and comment on the paper and give feedback to the individual student. However, why not consider scanning, uploading and annotating electronically one or two high-scoring papers to Crocodoc to share with your students to provide and discuss the marking and allow all students the benefit of the feedback as well as providing good model answers? An added benefit is that you have an online record of the annotated work that you may want to share with other students or colleagues for moderation purposes in the future.
To get started and try out Crocodocs, go here.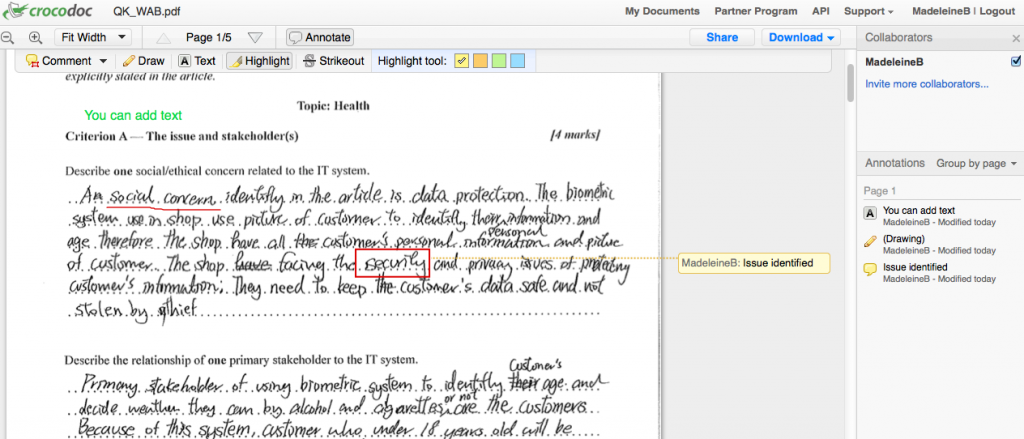 Crocodocs is FREE and currently available here in China….so get started and see how you go!
This has been posted on the OCC and I think it will be a really good event to join.
Project Special Event
[21 Sep through 7 Oct 2011]
This activity is being run to familiarise teachers, examiners and workshop leaders with the new Project (first examinations May 2012) and is based on actual student work submitted for May 2011. (copy in attachment)

The leaders are Barbara Stefanics (English) and Betty del Gobbo (Spanish).

The resources are as follows:

ITGS Guide (pages 56-70), document; Guidance on the appropriateness and complexity of an IT solution for the project, and Project samples in the Teacher Support Material (TSM). All can be accessed from the OCC ITGS homepage.
Two samples: Project 1 Hula Commercial and Project 2 Read Posters. Accessible on DivShare.
A blank M12 marksheet for the ITGS Project.
A confidential mark entry form in Google docs (link will be provided)that will let the Special Events leaders know when you have submitted marks.
The marksheet that contains the marks and comments that will become available once you have submitted your marks for each Project.
Google docs page for recommendations for each of the criteria for Project 1 and for Project 2.

The links for downloading the projects and other relevant resources will be provided during the Special event.
We have been working on our projects in the WAB ITGS classroom. Today was the deadline for the first draft – and I now have a number of USB drives that I need to prise open and get marking. More on that later…
Many of our students did video projects and therefore we had many discussions on the complexity of the techniques required to hit the top marks (7-8) in Criterion E:
The IT solution identified in criterion B is created. The structure of the complex product and the choice of techniques used to develop it have been fully justified (with screenshots).

Sources are cited appropriately.
The IB Online Curriculum Centre (OCC) is a great source for discussions and I strongly urge teachers to look through the posts to see what has been discussed and to post their questions to ensure that the students are on the right track. The Teacher Support Material is very good and whilst some of the more able students are able to make sense of the examples, I strongly recommend you take the students through this material, especially the examples so that they have concrete models to guide them. Finally, there is a document that is published annually which gives a list of the appropriate techniques and their complexity.
Based on some of the projects that our students have been working on, I have tried to collate all the information about the complexity techniques for creating their videos in our wikispace. I hope that this helps.
It's been a busy few weeks helping my IB ITGS students prepare for their exams. We have used two major IT systems to help us along the way.
Once again, the use of wikispaces has been an excellent way to collate notes, share resources and document aspects of the course that the students can use for their revision. And not just our own students, the ones that helped build the content in the wikis, but also for any other ITGS students from around the world.
The 2011 Case Study wikispace that we have been collaborating on with Andrew Churches' ITGS students in New Zealand attracted over 660 unique visitors from all over the world in the 48 hour period before the exam on May 6. It was interesting to note that 19% of the visitors were from US compared with 2% from China – which equates to 13 – the number of students in our HL class!
After the US, we have visitors from the UAE, the Philippines & Singapore, approximately 8%, and Bangladesh, Indian, Mauritius, Tanzania and Uganda with almost 4%.
Our itgsatwab wikispace also clocked up over 150 unique visitors in the same time frame with over 58% of visitors from the US, second was Taiwan with almost 8% and China with 6%.
We also did some real-time 'synchronous' revision using Skype. We made a Skype chat group which we left open for comments. On the evening of May 4th and the evening of May 5th, there were sessions that went on for hours. Students asking me questions and discussing answers with each other and me throwing out questions for them to answer. (Don't worry – I had the mark schemes with me). On the first evening, a core of students were the lively contributors whilst others, maybe less confident ones, watched and read. It was good that there was a mix of formal technical talk with students trying to articulate their thoughts combined with the more informal chat language ("im gna rest now haha") interspersed with emoticons – some intentional – 😉 – and some non-intentional –  try keying in (d) – as in part d of the question – in Skype and you get the cocktail gif!
On the second evening, after the  – I hope, successful – completion of Paper 1, most of the class joined in with comments and questions. As all the chats are saved, students could dip in and out of the conversation knowing that they were not missing out.
It's a wonderful feeling when you know that you have really connected with your students.
After the first paper, most of them came running down to see me after each exam to describe the papers in detail, to confirm some of their responses and to speculate on what the next paper would bring. On the eve of the second paper, it suddenly dawned on one student that our time together as an ITGS class was over: "ok well I guess this is the last time, good bye"
I'm really going to miss my graduating class of 2012 – however I now have them firmly in my Skype contact list and look forward to continuing the conversations!
This blog has been quiet the past two months. Madeleine and I have been very busy with the Flat Classroom Conference (pre, during and post) that involved some of our ITGS students. I am still formulating a blog post about that amazing event……
Meanwhile our Inside ITGS collaboration continues, with a little less emphasis on the cross-class collaboration recently. We have been working through understanding software, including spreadsheets and databases, and although not the most inspiring of topics, it is a chance for our students to develop an understanding of these applications before making some decisions about their personal project direction (more coming about that soon as well).
This past week we started exploring the possibility of integrating Second Life with Inside ITGS. Inspired by colleague David Deeds, currently leading technology and innovation at Changchun American International School, and Second Life/virtual worlds guru we are considering how we can use the power of a virtual world to support engagement and learning while at teh same time deliver the ITGS curriculum. Our first fun session within Second Life recently found us flying around visiting the island and spaces that David is already working within alongside his students. The picture below shows the three of us deep in discussion in the new building David has bought specifically for our three schools to connect and develop the ITGS learning community.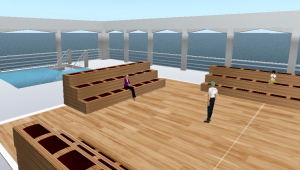 Can you help? Are you an expert in one of the following or know one?
My current grade 12 IB ITGS students at the Western Academy of Beijing need 'experts' to interview online or via email for their portfolio extension. They are 17-18 years old and have been (individually) investigating issues arising from the use of IT. Each student has produced a portfolio paper on their topic which is based on secondary research and now need to interview an 'expert' for further opinions for their extension. (The experts must be over the age of 18 and have first-hand experience of the topic.) Please, please would you think about your contacts and let me know if you are able to help? We are aiming to get these interviews done in the next couple of weeks (by Dec 17) – if possible! You can email me directly (madeleine_brookes@wab.edu) or leave a comment here.
Here is the list of what we need (in the words of the individual students):
Topic: The effect of SMS on language of high school students
Issue: The degradation of written language
Who you want to interview: a high school English teacher where the primary teaching language is English, a linguistic expert on spoken and written English.
Topic: Biometric Identification System in schools
Issue: Privacy issue
Who you want to interview: The organiser of the biometric system in a school. Principal of school which has the biometric system.
Topic: The use of remote Webcam technology to spy on kids
Issue: Privacy
Interviewers: A LANrev employee, and someone who opposes to use of technology to spy on kids
Topic: Health issues arising from the use of eBay to purchase medicine
Issue: Health
Interviewee wanted:
1. Manager or better working for an online auction/shopping website that allows medicine/drugs-shopping
2. Medic/Doctor/GP who knows auction/shopping websites
Topic: E-book piracy
Issue: The impact that E-book piracy is having on the publishing industry
People that I want to interview:
– Someone working in the publishing industry that is being affected by E-book piracy.
– An E-book pirate or uploader.
Topic: Google Earth Privacy issue
Issue: Privacy invasion ranging from personal to country
Who you want to interview: I have a secondary interviewee but I need the actual government person who might be censoring Google Earth or any kind of official people who might be doing this job in an organization censoring Google Earth for some reason.
Topic: A "iPhone Program" implemented in UK schools for students to rate teachers
Issue: Students abuse this power and teachers feel they have become slaves to student's needs rather than how they should be doing their own method to teach.
Who you want to interview: An expert who knows a lot about how schools use technology to rate teachers.
Inside ITGS students in Beijing, from Western Academy Beijing and Beijing (BISS) International School, successfully completed another interesting global challenge this week when they presented at the Global Education Conference.
This free event took place entirely online using the videoconferencing tool, Elluminate. Everything went relatively smoothly with 15,028 unique logins, 8,372 hours of presentations attended, and 32,681 web site visits just this week. Sessions were recorded and can be viewed on the conference web site.
View the Inside ITGS slideshow from uploaded images to the Ning.
The following is a screenshot from during the presentation showing where participants in the audience were located.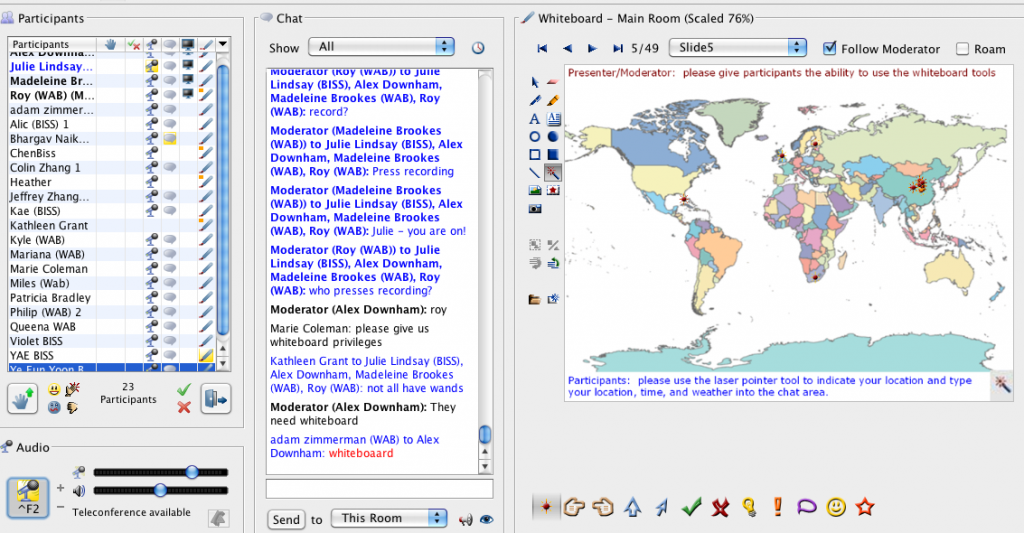 This style of real-time presentation opportunity, although a little stressful pulling it together, promotes higher-order thinking through challenging communication skills, both verbal and written. Not only was each student expected to speak about a topic or aspect, but they were expected to contribute to the discussion forum and interact with others throughout. With an appreciative audience (teachers from our schools as well as other guests) providing motivation to excel, all students, without exception, spoke succinctly sharing their ideas and reflections.
The slideshow shows the diversity of the presentation, which as well as introducing ITGS and the concept and practice of Inside ITGS, also covered the tools and how we use them, the actual collaborative assignment work attempted as well as a discussion about what the future holds for Inside ITGS.
I invite students from the presentation to contribute their ideas as comments to this blog post. How effective is a virtual presentation? What skills are needed to do this well? How can we use this medium to flatten the classroom walls further and include others, especially those not in our time zone?